Editor's Note: As forecasts for the 2023 color of the year begin to come out, we look back on what informs these color predictions and how brands can use these trends effectively.
When it comes to home décor and design, color can be one of a brand's biggest game changers. In fact, color marketing studies have found that 90% of a consumer's snap judgments on products are based on the color alone. This means perceptions about color drive purchasing decisions every day. And, while colors don't appeal to each of us in the same way, cultures can share similar perceptions based on how colors are regularly used in society, marketing and media.
Today's paint brands and designers are aware of the power of color — and, much like the always-evolving home and building category, the possibilities are endless. To better connect with your brand's target audiences, it's important to understand and incorporate colors that are trending with consumers. But rather than blend in, it's critical for brands to stand out. Luckily, there are many creative ways to incorporate on-trend colors.
Informed by color psychology's impact, paint product designers and marketing departments anticipate the colors consumers will want in their homes in the upcoming year. Consequently, annual trend forecasts give homeowners and designers curated colors from palettes that feel fresh and cohesive.
So, what does this mean for home and building marketers? Here are some things to consider.
What informs color trend predictions?
In the past, paint brands have announced their own, mostly unique recommended color of the year. Some years, the hues lean into surfacing trends, while others feature classic, "can't go wrong" colors, and still others represent a desired feeling based on cultural shifts.
For example, heading into 2020, some paint brands went with classic colors, such as Sherwin-Williams' Naval Blue — both familiar blue shades signaling strength, calmness and a haven from the world's anxiety and stress. Meanwhile, others clung to optimistic, emerging trends, landing on the likes of millennial pink and sunny yellow for the dawn of a new decade.
Now, two years into the pandemic, two top values have surfaced: people and planet. Meaning, we're focused on building connections with those around us and connecting with nature. Many industry-leading paint brands seem to agree, with each naming a similar sage green as their 2022 color of the year.
These greens are luminous mid-tones that are lush and optimistic. They evoke neutrality with an underlying warmth to instill positivity without being overwhelming. The hues can easily fit in with current spaces, too, as they work well with other neutrals and mid-tones.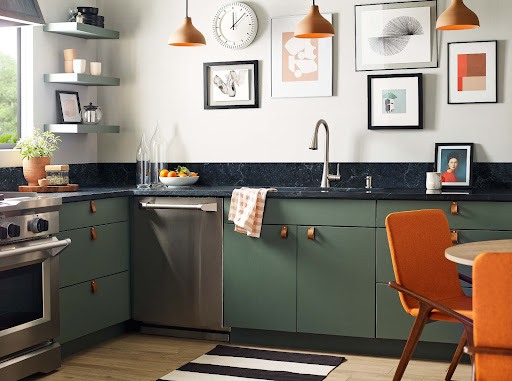 How do consumers get their interior design prediction information?
Traditionally speaking, psychology and emerging and historical trends — as well as cultural, climate and societal shifts — have informed the interior design space. For example, fashion trends that resonate with audiences will influence interior trends over time. Due to scale and ease of application, accessories and paint are often two of the first categories to adopt interior trends.
In today's technology-driven world, homeowners often seek color trends and advice online through interior design blogs and DIY-inspired social platforms, such as Pinterest. My forecast as to how this will evolve in 2022? On Pinterest and Instagram, the color of the year will most likely surface as a source of inspiration through accent rooms — covering the walls, molding and, in some cases, even the ceiling in green hues. In the kitchen and bath, painted sage green cabinets with brass pulls will be paired with antique touches in blush and beige, while modern metals and shapes will allow spaces to feel curated and well-designed. Lush, monochromatic layering will be achieved with mature house plants, natural textures and earthy hues.