Agency Life
Early this summer, I wrote that only time would tell the result of putting six interns together for eight weeks.
Now, the last day of our FORM internship has come and gone. It may seem hard to believe, but while in some ways the eight weeks flew by, we feel like we were at Wray Ward for longer than a summer. We became part of multiple families in the office: both within our intern group and Wray Ward at large.
The end of our FORM internship is like an unofficial graduation. We experienced so many firsts, we learned as much (if not more) as in our classrooms at school, and we walked out of the office with a confidence we didn't have two months ago.
Each of us found our own world within Wray Ward. We delved into our respective departments and pushed our respective skills to the max. Beyond that, the six of us became our own mini-agency team, as we combined our backgrounds and skill sets to take on our first-ever client project.
In those eight weeks, we came up with and fleshed out a full-fledged creative marketing plan. We even presented it to our client. We had no instruction manual or guidebook, but we learned from our mistakes, from one another, from our mentors and from real-world practice.
We couldn't be more proud of where we landed.
Here are some intern superlatives to sum up a summer at the crazy, fun and dynamic agency that is Wray Ward.
Most likely to get the group back on track after a distraction – and be the one who got us off track in the first place: Laura, client engagement intern
Laura's job was all about strategy and coordination. She managed the crazy intern group as we navigated uncharted territory to complete a group assignment. Along the way, we laughed a lot and got to know one another. We also completed a project that we were all proud of and that blew our client away.
"My favorite part about the intern group was that everyone knew when it was time to be serious and when it was time to be goofy … for the most part," Laura said.
Whenever we needed a reminder, Laura was there to make sure we had fun but also to keep us on track, so we'd be ready for the client presentation when the day came.
"The most valuable takeaway for me has been getting to work with real clients," Laura said. "This isn't something you learn in school. Often, it isn't even something you're trusted with in an internship. Working with real clients meant real responsibility, and it was a valuable growing experience."
Her final thoughts on our summer-long creative project?
"We killed it. For real, I am so thankful for the team of interns and have a lot of love for them."
Most likely to perform a rap at an all-office meeting: Khari, copywriting intern
Khari has a way with words. He can polish any sentence, think of the perfect synonym and even turn it into a rap if need be. Khari showed his word game with a rap at our introductory meeting to the agency in the summer, and he never disappointed us. Rapping in front of an entire office demonstrated his confidence, which only grew from his experience with FORM.
"The most valuable thing I've gained is confidence in my skills and my abilities. I now know that I can be a good copywriter and chase my goals," Khari said. "I've learned to be more patient in the creative process and to let things I see daily inspire me. The people (at Wray Ward) are so supportive and helpful. They offer constructive criticism but also tell you how to improve."
Khari's advice to future FORM interns?
"You've made a great decision. Don't be afraid to speak up and let your voice be heard."
Most likely to wake up at 8:20 and still make it to work by 8:30: HwangHah, UX design and development intern
HwangHah started her days lightning-fast, and from what we could tell, she never slowed down. She was always hard at work creating digital designs, mocking up a landing page for the intern project or polishing up on her skills.
"My most valuable takeaway is that I have to be open-minded about people's advice and feedback and be ready to make changes in every stage of the process," HwangHah said. "There never is a 'finish' until it's REALLY finished."
HwangHah received feedback not only from her digital team but also from the other FORM interns, as we tried to create compelling digital content for our campaign.
"I learned that working in a group is hard and challenging, but in a good way," she said. "It allowed us to think with different perspectives and made us better communicators. In the end, six brains are better than one. One person could not have come up with this great project we produced."
When it came down to the client presentation, HwangHah finally got to step back from her keyboard and let her work speak for itself. Her final thoughts?
"I think we rocked it," she said. "Honestly, I didn't think we'd be able to come up with such a great project, but everyone was so skilled and talented in their area of expertise that when we put all the elements together, our work shined."
Most likely to snap a picture of her food before eating it: Maddy, design intern
Maddy lives in a visual world. As the graphic design intern, she had to take a lot of vague concepts from the five of us and turn them into finished products. Meanwhile, we knew we could often catch her at her desk agonizing over a choice of two nearly identical fonts, taking photos of her smoothie bowl for Instagram and drawing ideas in her notebook.
On top of applying her graphic design experience to projects for real clients, Maddy got her hands on all aspects of marketing, from ideation to presentation.
"Before this internship, I honestly had no idea what all went into a campaign," Maddy said. "Now I feel so much more knowledgeable about the components and how to go about putting a campaign together. It feels great to have some experience outside of graphic design."
Because our project involved six different peoples' ideas, Maddy worked with every single one of us to present an image that reflected our perspectives and thoughts.
"My most valuable takeaway was experience working with a team," she said. "I had worked with other designers before, but it wasn't the same as working with people who have completely different strengths. I really learned a lot from that."
We also learned that becoming a team means trusting one another, no matter how wacky and out-of-the-box our teammates might seem.
"It's funny to think back to the first day, when we were so awkward with each other," she said. "Now, we're really close, and throughout the past eight weeks, we've become really comfortable sharing ideas with one another."
Maddy's advice to the next generation of FORM:
"Be open-minded. There's a lot you can learn here if you come in each day with ambition and a positive attitude."
Most likely to whip out embarrassing videos of the other interns: Ruijia, video intern
In one way, this superlative shouldn't come as a shock. After all, part of Ruijia's job as video intern was to compile a video that documents our FORM 2017 experience. Along the way, she accumulated a fair number of bloopers and outtakes, and she wasn't afraid to share them with the group to make us all laugh at the end of a difficult meeting.
This summer, you could catch Ruijia in the halls of Wray Ward with a camera and a tripod, editing away at her desk or secretly recording from her iPhone at FORM lunches and meetings. Her video experience wasn't all fun and games, though. She had professional opportunities that would make any film major green with envy.
"The coolest experience I had was a trip to Glen Raven," Ruijia said. "I even got to play around with the drone a little bit. Editing the FORM video was really cool as well, seeing how little pieces came together to make an awesome final product."
Her favorite part about the intern group is not, however, the fact that she has the ultimate collection of embarrassing videos of us all.
"I love how during the final process of the (group) project, we all worked together and supported each other to make sure everything for the presentation was as polished as possible," she said.
Her advice to future FORMers?
"Take this internship as an opportunity to learn skills you love from your team or from anyone here at Wray Ward. Just enjoy these two months. It's really fun."
Most likely to bring up conspiracy theories from Twitter over lunch: Linda, public relations intern
Sure, I'm the one most likely to bring up some overlooked theories about the Zodiac Killer or the moon landing over lunch, but nobody ever said I lacked the ability to do research. That may seem vaguely related to my job as PR intern at Wray Ward, but research and staying up to date on the latest trends and stories are both important parts of PR (even though the subjects differ slightly based on whether I'm on or off the job).
At Wray Ward, I was always researching for blogs or articles, checking up on Twitter, Instagram and Facebook activity, and creating content for social media. On top of learning a lot about the world of PR and what it means to work in an ad agency, I had my first presentation to clients, and I loved every second of working with my quirky FORM family.
I learned so much from my peers — and not only about their skill sets, but also more generally about how to think and approach problems, how to address different perspectives, and how to come together and make one idea six times stronger.
To future FORM interns, it may be awkward on your first day, but your team will become your support system, your friends and your biggest inspirations. Enjoy the work you do together, but mostly, enjoy the process.
The FORM diploma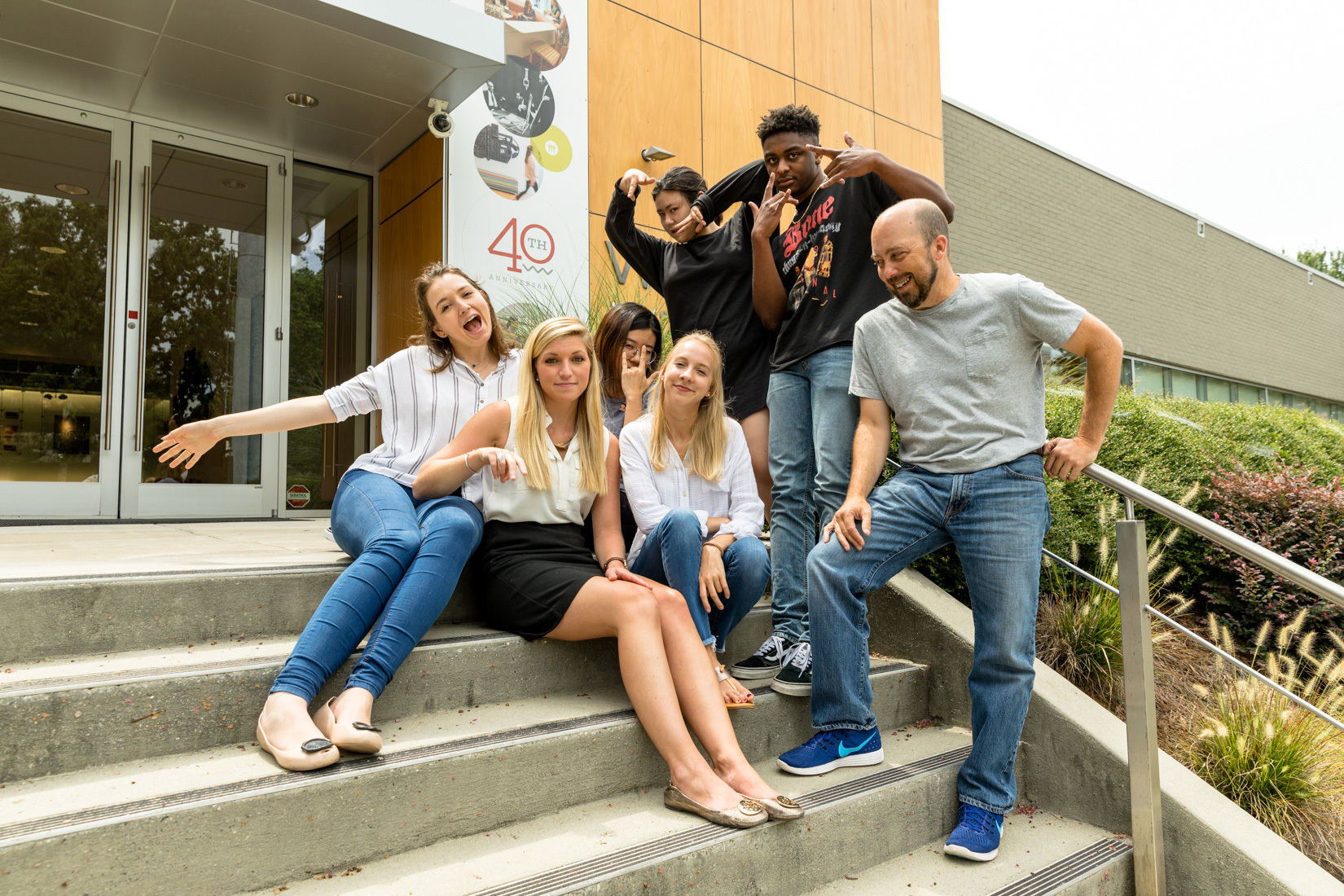 Well, we didn't actually get a diploma for our time here at Wray Ward. We didn't get a piece of paper or wear a cap and gown, but we all walked out of the office knowing we achieved more than we thought was possible when we huddled around pizza on our first day, nervously discussing our client project and the weeks to come.
We left with the sense of confidence that comes only with real-life practice, knowing we grew as writers and thinkers, designers and doers. We left with five new friends and an office full of pretty awesome creative people to turn to in the future.
Although our time in FORM is over, we'll carry the experience forward in our careers and lives.
We are honored that we were selected to participate in the FORM internship, that our mentors trusted us with real client work, and that we had the support of everyone at Wray Ward. We especially want to thank Photography Director Rusty Williams and President and Chief Creative Officer Jennifer Appleby for making this program possible and for their invaluable guidance along the way.
So, what do you get when you put six interns together for eight weeks?
You get FORM. You get new experiences. You get an exciting team project. But mostly, you get an unforgettable summer internship. Sounds too good to be true, right? Watch our video to see it for yourself.
You might also be interested in:
A Day in the Life of a Wray Ward Intern
8 Things the FORM Marketing Internship Taught Us Our First Week