Agency Life
Nothing worth having comes easy. And when we recently kicked off our first major office renovation since Wray Ward made Charlotte's 900 Baxter Street home eight years ago, I knew 82 talented people would be disrupted, pushed, pulled, stretched and squeezed – yet they couldn't take a break from producing better-performing work for our clients.
Here's why a bustling creative marketing communications agency transformed its space, what we did to make the best of all that drilling and dust, and how 900 Baxter Street looks today.
A call for change
We'd always intended for our office to be inspirational, open, collaborative, and colorful – all those things a creative space should be. But a lot has changed since we opened the doors to 900 Baxter Street in 2007. The size and makeup of our staff. The types of services we offer to our clients. The technologies we use to help them achieve their goals.
We're not a large corporation, yet within our midsized-staff, we have three generations and easily 10 skillsets. That creates a range of workspace needs. For example, young people today are different than when I launched my graphic design career. We'd noticed many people working outside of their offices, on sofas in our kitchen or sitting cross-legged on the floor by the windows. These employees craved openness and flexibility and freedom from their traditional spaces.
Our digital team, on the other hand, craved distance from the light and sound and movement that characterize bustling agencies like Wray Ward. Whether they were designing beautiful, colorful webpages or writing complex code, they wanted an intimate, quiet place to do it.
Other changes came about because of industry trends or new services offered by our agency. Our motion team, for example, has grown to a full-scale production house, capable of cutting feature-length documentaries and national TV commercials – in a few short years.
Our staff jumped in to help us create a clear vision for the next generation of 900 Baxter Street, and they nailed it. The only challenge that remained, then, was making the vision come to life.
The chaotic, clamorous, colorful road to progress
As I once said about city-led construction on our property, disruption is change. The dust from that storm drain project has long since settled, but I still believe that getting out of your comfort zone can ignite the most creative ideas, and the amazing team here served as living proof of that throughout Wray Ward's own chaotic, clamorous, colorful road to progress. Through furniture teardowns, closed conference rooms and noisy equipment, they persevered. We had writers in the kitchen and designers in conference rooms. We had construction walls and plastic sheets lining our hallways and noise in our ears.
It might sound awful, but our team made the best of it. One of our designers even turned the massive construction wall into something beautiful. As much as I looked forward to the end of the renovation, I was still a little sad the day the "dragon wall" came down to reveal the new space. Meanwhile, I think we were all reminded of the value of getting out of your comfort zone. It's amazing what a change of scenery – even a disruptive one – can do to spark creative ideas.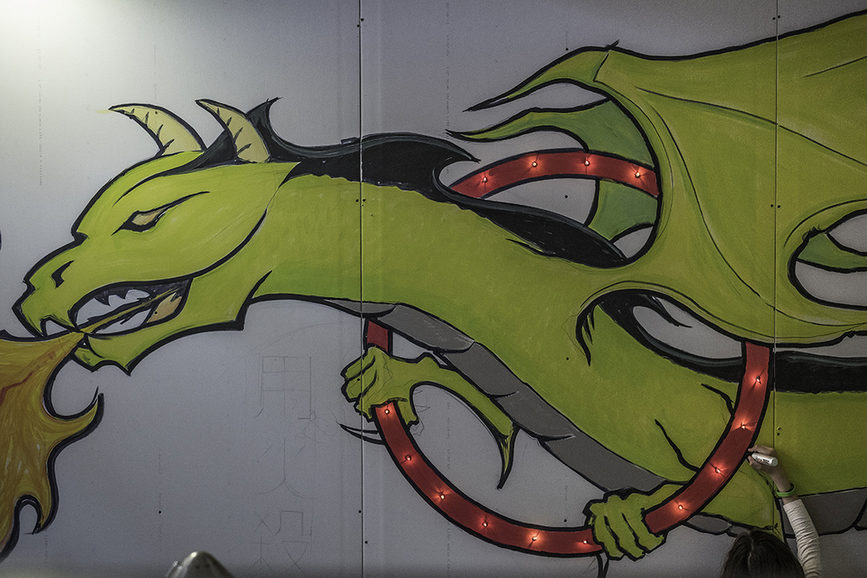 The result
The result has been nothing short of amazing.
Our creative group space now has massive community seating, with a long high top and barstools that are perfect for collaborative work.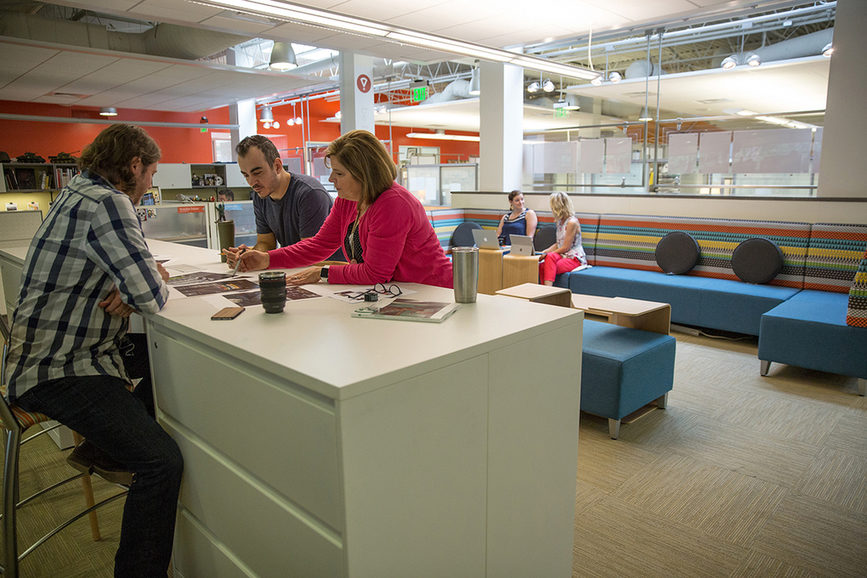 Designers and writers can retreat to comfy pods to find inventive ways to bring brands' personalities and positioning to life.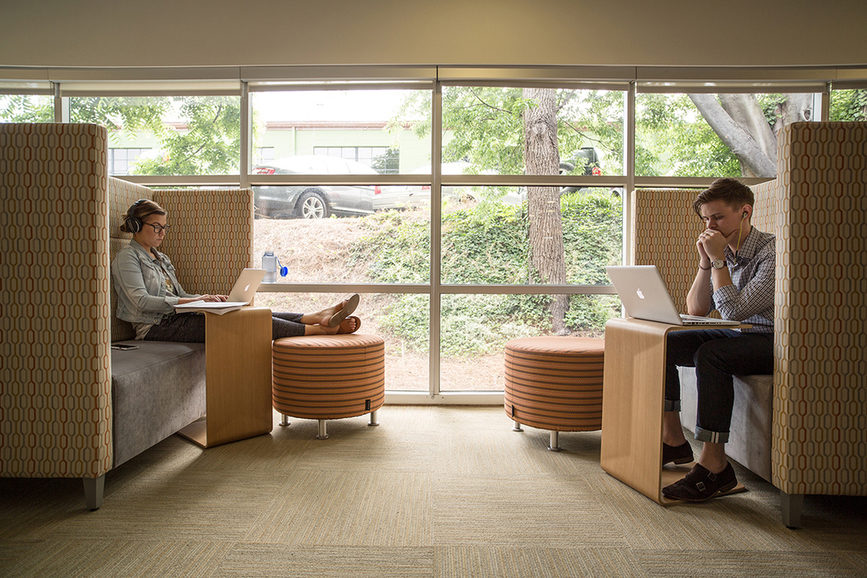 Now, our employees who wanted a coffee shop environment can get it without leaving the office. The new space feels like a vibrant community, yet it's quiet enough to allow for total focus. Conference rooms have changed, too; the Garage – always our most creative meeting space – lost its conservative, expected table and gained casual, meet-up style furniture.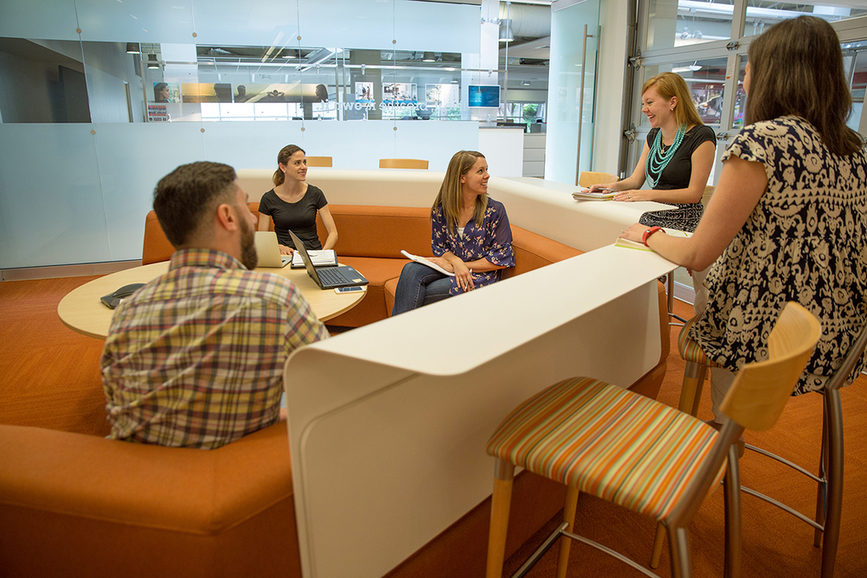 Our digital team has "The Den," a collaborative space where designers, developers, strategists and producers work in tandem to efficiently produce results-driven, gorgeous digital work. They have a whiteboard area where they can sketch out ideas and wireframes and a quiet place where developers can plug in, get in the zone and get work done.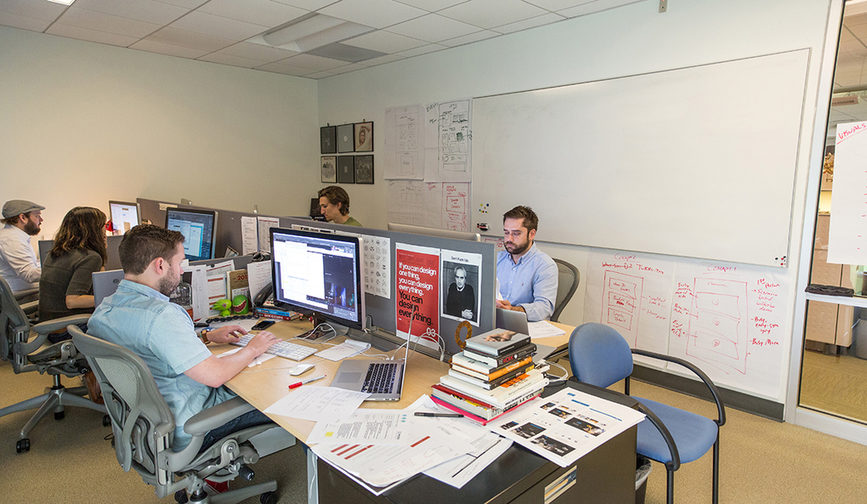 Our motion team, too, has a brand new space. Equipped with cutting-edge technology, it matches the city's best production houses. It's an editor's dream, but it's also a showroom for clients partnering with us on their next great video project.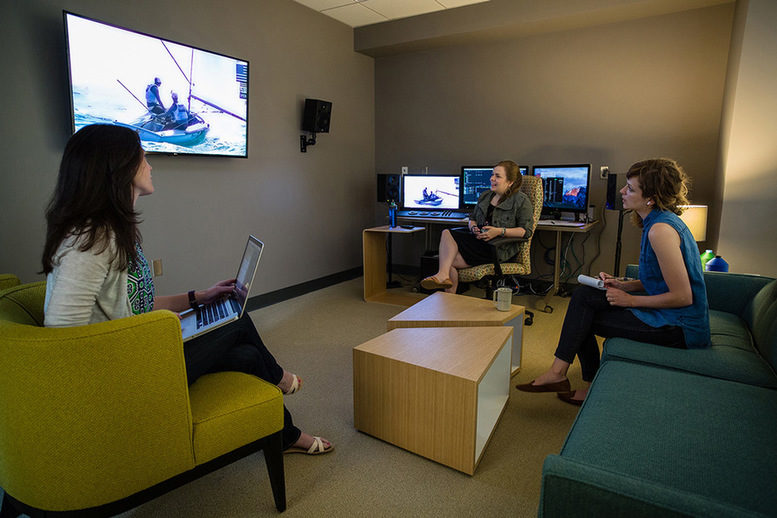 All in all, we've added four cubbies, one video edit suite, one creative lounge area, one large work area for the motion team, and one digital platforms area, plus extra "touchdown" office spaces to accommodate additional growth. That's a lot of numbers – but numbers alone can't illustrate the impact this project will have on our agency or the work we do.
What's next?
Our clients have always loved our office, but we've never had a space this inspirational, collaborative or purpose-built. If you haven't visited us since early 2016, we'd love to give you a tour of our new home.
I called this project a renovation, but I think the better word might be "transformation." With that said, nothing stays the same except change. Our industry is still growing by leaps and bounds, and we don't plan to slow down. Our building is as future-proof as it can be, but you can bet this won't be the last transformation at 900 Baxter Street.