Marketing Insights
Not long after I graduated from college and started my marketing career, I got married and bought a house in my hometown of Charlotte. In the 10 years that followed, my handyman husband and I took the good bones of a house with potential and made it our own. We gutted the kitchen and bathrooms and added a room on the back. We framed every window and replaced every piece of moulding. We added a paver patio and walkway and a black aluminum fence. Together, we made a great home in a desirable neighborhood in a booming city.
Then one day, we decided to leave it all behind for something new.
This post is the first in a series in which I'll share my experience building a house – from how we picked our lot to what it's like watching your dream home transform from a drawing into a real thing with shingles, windows and doors. I'll get the chance to play secret shopper, market researcher, experience analyst, and judge and jury on which communication, marketing and sales tactics work well – and those that need a complete overhaul. And as a marketer focused on the home industry, I can't wait to see how this adventure unfolds.
Heading south
Charlotte has been called a transient city, where people come and go in cycles of three or five or 10 years (but if they make it to 10, they've probably started referring to themselves as "natives"). Call it a bad thing, but there's a reason why new people are always flocking to Charlotte. We have great weather and jobs and culture and major league sports teams. Charlotte is two hours from the mountains and three hours from the beach. I was actually born in a hospital in Charlotte, so I'm basically a unicorn. And for more than 30 years, Charlotte couldn't get rid of me.
But it finally did. In the end, the allure of another booming town – albeit a much smaller one – was too much for my husband (who will tell you he's a North Carolinian, even though he was born in Queens) and me to resist. We saw the charming downtown, low taxes, top-notch schools, green spaces and slow-paced life of Fort Mill, South Carolina, and we fell in love.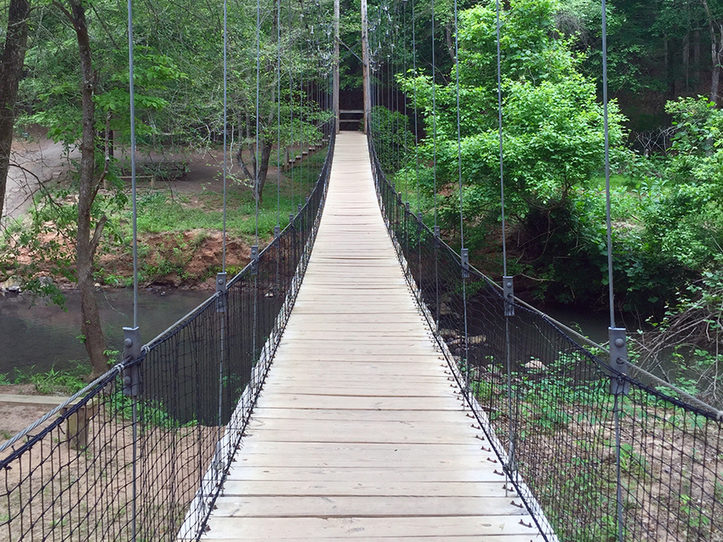 Researching communities
Once we decided to build a house in Fort Mill, we had to choose a neighborhood and a floor plan. Some people see those as isolated decisions, but we couldn't separate the two. We found communities we liked but picked apart all of the floor plans – at least the ones in our price range. A fancy dining room is impractical for a couple that never breaks out the fine china, even if it's drop-dead gorgeous. Bedroom quantity is low on the totem pole for buyers without kids. We found floor plans we loved in communities too far off the beaten path. We left the "big city" by choice, but we still wanted to be able to walk to shops and restaurants and commute to our jobs in uptown Charlotte without developing a permanent case of road rage. We could have it all – right?
In several months of searching, we noticed that every builder seemed to have a different style of communicating with prospects. Because I'm in marketing, I don't cringe like my husband when companies ask for my information. But I was turned off by the communities whose sales consultants called me many times a week or tried to pressure us into making a down payment before we'd even listed our current home. I was nearly as irritated by those who weren't responsive to our emails when we had questions. The builders whose consultants walked the fine line between providing good customer service and nagging us stayed in the game the longest.
Because of our backgrounds, my husband and I have more knowledge of building products than many homebuyers. This confounded a lot of the consultants who met with us. Every consumer wants to know how many bedrooms and bathrooms are in a plan and how much square footage they're buying. Few buyers ask about things like subflooring and sheathing and insulation, and even fewer ask if homes will be framed out with two-by-fours or two-by-sixes. But not talking about the guts of the house before you sign is like buying a car without looking under the hood. And if we saw that a builder was using cut-rate materials, we walked away – no matter how much we loved the floor plan.
Conversely, builders that do the guts well but don't educate their consultants are doing themselves a disservice. Since all homes have to be built "to code," that should be considered the minimum requirement. Builders can market themselves more effectively by showing how their homes exceed this requirement. For example, most consumers might not think to ask about subfloors, but if your subfloors are great and you say that, you'll make a lasting impression. One builder used a bedroom in the model home to demo building products like Huber's AdvanTech flooring and ZIPsystem™ sheathing and tape. While the location of this community didn't work for us, we'll tell anyone that the homes there are solid.
After shopping on our own and seeking advice from the team at Crain & Co., LLC, a Keller Williams company, we found our future neighborhood: a brand new community near Fort Mill's Baxter Town Center. With two quality builders, a convenient location, nice lots and a great school district, it checked all of our boxes.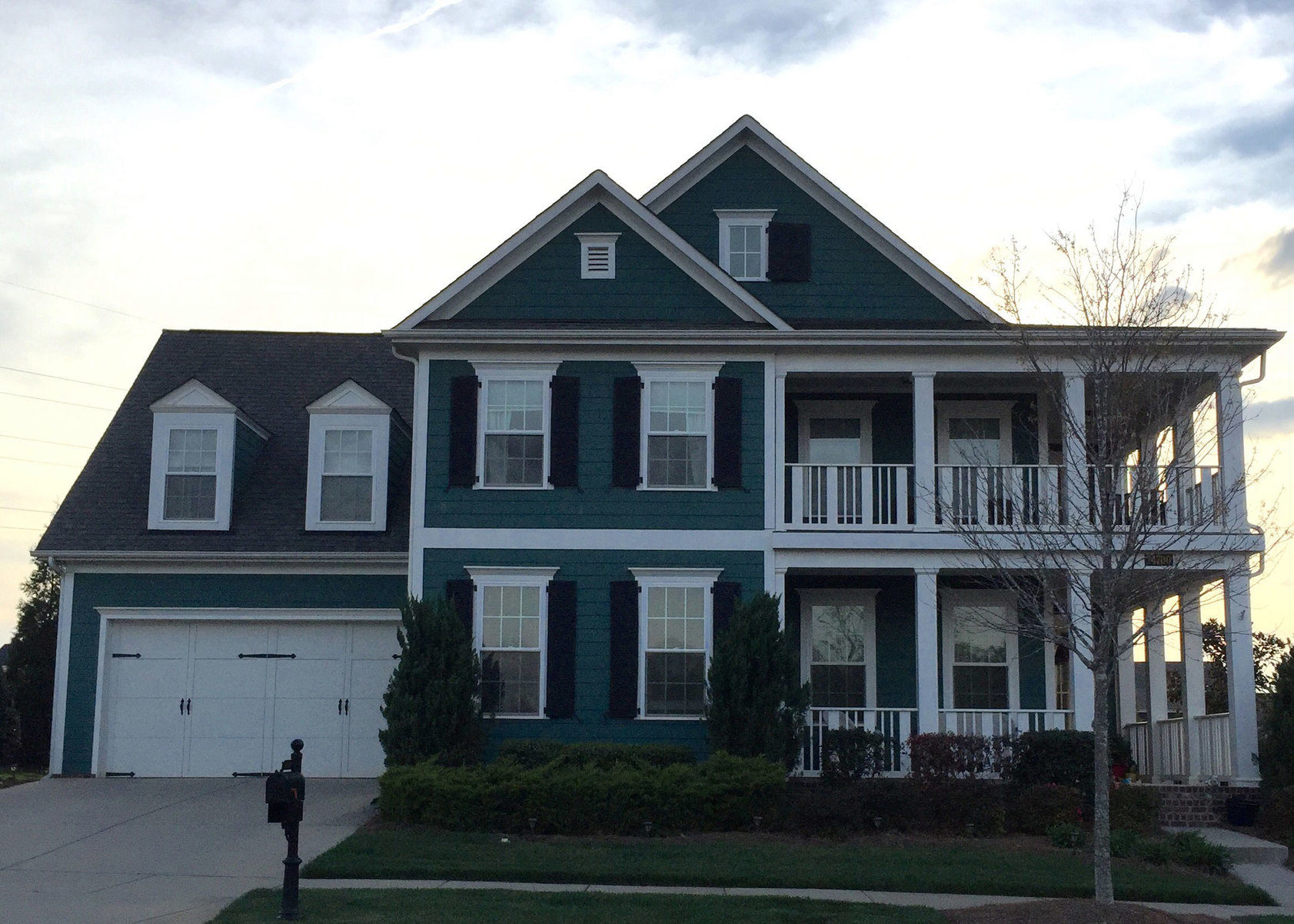 Picking a plan
Even after we'd settled on a neighborhood, we waffled for weeks on our builder selection. The community features plans by two respected builders. I can't say it enough – builder reputation was a deal breaker for us. Picking a neighborhood with two good ones made our decision a lot tougher.
One builder's plans for our future community look like miniature versions of the homes lining The Battery in Charleston. Need I say more? The moment I walked in the model, I was hooked. The floor plan took care of almost all of our wish list items: number of bedrooms, gourmet kitchen, creative entertainment space, and lots of natural light. When the sales consultant showed us an elevation with matching wraparound porches on the front of the house, I said, "Where do I sign?" I could already see myself writing on the second-floor porch swing under a lazy fan on a Saturday afternoon.
Choosing a lot
Our first house was perched at the top of a hill. Most of my friends refused to pull their cars to the top of our driveway, and getting the mail was a warm-up, if not a workout. So we knew we wanted a flat lot. And after we chose our floor plan, the builder representative took us on a short walk to show us a corner lot shaped like a nice, flat rectangle. With a row of trees separating our backyard from the next, we'd technically only have one immediate "neighbor." And those double porches that sucked me in? They'd make one heck of a statement on that corner.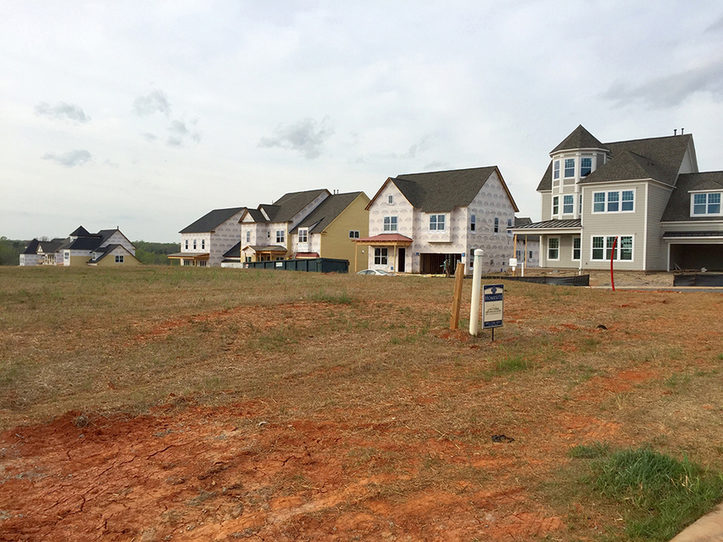 One hidden builder cost that escapes many buyers is a pesky little thing called a "lot premium." Lot premiums are annoying, and they don't always make sense. For example, one builder in another community wanted to charge us a huge premium for a lot that backed up to a "water feature" – actually a retention pond the color of mud and a surefire mosquito factory in a South Carolina summer. We said no, thank you.
But here's the thing: if you're going to go to the trouble to build a house, it's a good idea to spring for the nicer lot. My childhood homes were built on three-quarter-acre lots, but they don't develop communities like they used to. Today, most developers try to squeeze as many homes onto a piece of land as the local government will allow. In new construction, the huge backyards of my childhood are hard to come by unless you're able to pay "estate" prices, and even modern "estate" lots might, in some cases, only get you four-tenths of an acre. We knew we'd be putting a bigger house on a smaller lot than the one we left in Charlotte. So the lot had to be perfect.
My heart might have skipped a beat when I heard the price tag for our nice, flat, rectangular, on-the-corner lot. But it was too late. I'd already fallen in love.
I've never had another feeling like the one I got when we returned to our lot for a picture after we signed on the dotted line. I felt a little like Tom Cruise at the end of "Far and Away," without the bumps and bruises. We have a lot of miles left to travel, but I can't wait to watch our new home come together. Stay tuned for future posts on design and construction; thanks for joining me on the journey!