Industry Trends
We recently shared insights about a new study from one of our research partners, The Farnsworth Group. The study, which examines online purchasing behaviors among more than 1,000 homeowners across a variety of categories, indicates that more than 70 percent of homeowners are purchasing home improvement products online.
This week, we're highlighting results for the fashion lighting and ceiling fans category, which includes ceiling fans and all types of lighting fixtures.
Adding new fashion lighting or replacing an existing ceiling fan can help breathe new life into a space. In the past year, nearly 20 percent of homeowners have purchased fashion lighting and ceiling fan fixtures and one out of four purchases occurred both in-store and online. Those who purchased exclusively online came in at a relatively high 16 percent.
Where do homeowners buy fashion lighting and ceiling fan products online?
More than half of online shoppers purchased new lighting fixtures through a home improvement store's website, such as Home Depot or Lowe's, while 20 percent of online shoppers attempted to purchase their product through a manufacturer's website. Of those shoppers, only 40 percent were provided with contact information for a local store that carried the product, while the majority were given a link to an online retailer who currently sells the product.
Why did homeowners buy in-store or online?
Busy homeowners prioritized convenience when purchasing their fashion lighting and ceiling fan fixtures. Convenience was the top reason in-store shoppers chose not to buy online, and the number two reason why online shoppers chose to shop online rather than to shop in-store. The number one reason homeowners chose to shop online was to take advantage of a broader range of product options and style choices.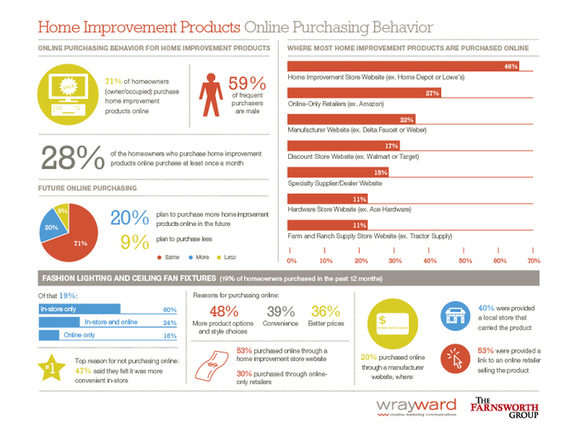 With this data, companies and brands can gain invaluable insight into online home improvement product purchasing and homeowners' purchasing motivations, while making more strategic and calculated marketing decisions.
Next week, we'll take an in-depth look at major appliances for the kitchen and laundry. In the meantime, feel free to contact me at kpanther@wrayward.com for more information on any aspect of this study and be sure to check out our previous entry on the fashion plumbing category.