Agency News
Wray Ward earned multiple awards for its "Why Skylights?" campaign, an integrated content marketing campaign on behalf of VELUX Skylights. The agency leveraged a range of in-house talent, including public relations, media planning, video and creative, to develop an integrated campaign that creatively educates homeowners on skylight possibilities, while strategically demystifying the installation process.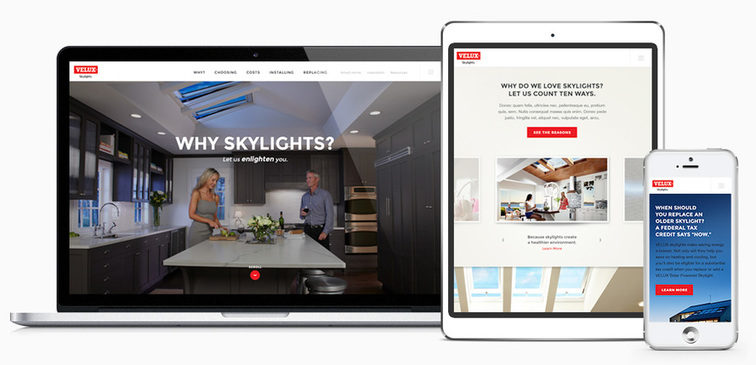 "Having successfully increased consumer awareness about skylights, we realized our next challenge was to reach customers who were considering skylights for their homes. We wanted to develop a creative, one-of-a-kind approach to reaching potential VELUX customers – one designed to inform, engage and inspire consumer audiences," said Wray Ward vice president and executive creative director John Roberts. "The platform has already generated a dramatic increase in VELUX skylights sales leads, and we are excited to see how this site adapts and grows over time."
The campaign earned Hanley Wood's 2015 Brand Builder Gold Award: Best in Website Design and Marketing Strategy, recognizing the most innovative and effective marketing campaigns throughout the design and construction industries; Web Marketing Association's 2015 WebAwards: Best of Industry, recognizing the best websites; and W³ 2015 Silver Awards in both Visual Design and User Experience, recognizing creative excellence on the Web.
The responsive website WhySkylights.com, featuring simple navigation and beautiful photography, directly addresses top questions about choosing, installing and replacing skylights, while providing a source of educational and engaging content for social media and direct marketing efforts. Among other storytelling and educational content tactics, Wray Ward used the power of before-and-after imagery in a series of videos that demonstrate just how dramatically a skylight can transform a room. These videos, articles and photography inspire consumers by showing the possibilities of skylights in a range of homes and rooms.
Wray Ward utilized social media platforms, print media, SEO, paid search, the Google Ad Network and content delivery networks to drive enthusiasts to the digital platform. Since the campaign launched in spring 2014, WhySkylights.com has generated more than 250,000 sessions. In 2015, website sessions have increased by more than 20 percent, and site leads sent directly to the VELUX installer network have increased by 40 percent.
Entries for the various awards were reviewed by a jury of experts. The jury rated entries based on a pre-determined set of criteria, which were established prior to the call for entries. The criteria may be reviewed online at brandbuilderawards.com, webaward.org and w3award.com.