Industry Trends, Marketing Insights
Like fashions, some home trends burst onto the scene only to quickly fade, while others stand the test of time. Will "industrial chic" be as chic in 2020 as it was in 2010? Time will tell.
Meanwhile, here are renovation, decorating and building ideas that seem outlandish today, but who knows – one of them could be The Next Big Trend. What do you think?
Adult treehouses
Would you want a treehouse – not for your kids, but for yourself? Enough adults have the itch to inspire cable channel Animal Planet to launch the second season of "Treehouse Masters."
Focused on builders and homeowners who seek "private escapes…to reconnect with nature and awaken their inner child," it's become the channel's second most-watched show after "River Monsters."
Today, the adult-treehouse business includes about 15 companies with specialized teams of engineers and interior designers building custom-designed backyard escapes or selling do-it-yourself kits for homeowners.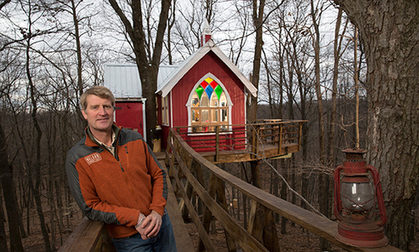 "A lot of people think of treehouses and children, but nine out of 10 treehouses we build are for adults," said treehouse builder Daryl McDonald. "People want an escape pod – a way to get out of the busy-ness of home."
The emergence of adult treehouses corresponds with an increase in stay-cations and the related need for a home away from home.
Treehouses can range from $3,000 for a D-I-Y kit to $200,000 for a full-fitted, multi-room habitat with plumbing, HVAC and electricity.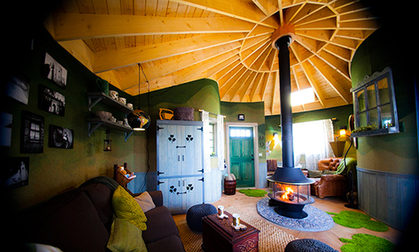 This Irish Cottage treehouse built by Nelson Treehouse and Supply in Huntington, California has a fireside lounge with contemporary furnishings.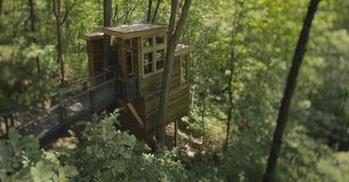 This dream treehouse was built to withstand the elements in Nashville using Advantach, from Wray Ward client Huber.
Sources: Zillow, MSN Real Estate, USAToday, Animal Planet "Treehouse Masters"
There's something under the stairs
Smaller homes need creative storage space. That's why remodelers are leveraging space under the stairs in remarkable ways: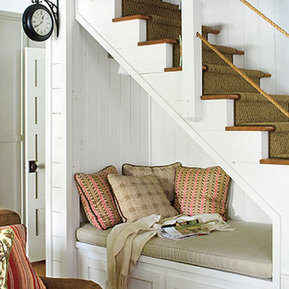 These stairs form a hideaway reading nook with a vacation home feel.
[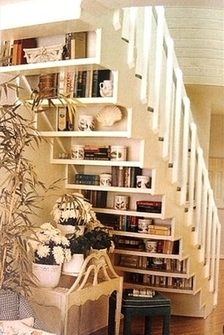 The underside of stairs can work like shelves in reverse.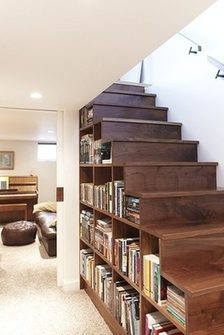 Stairs can also function as a space-saving bookcase.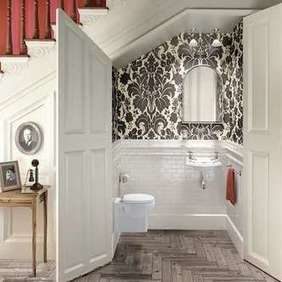 It seems like a stretch to call this a half bath, but under-stairs spaces can allow room for a tiny washroom; call it a two-fifths bath.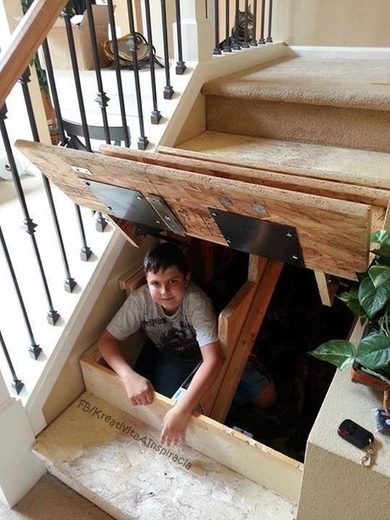 It's probably out-of-bounds to store your kid under the stairs...
...but what a terrific place to toss the umpteen pairs of kids' shoes that clutter every family room!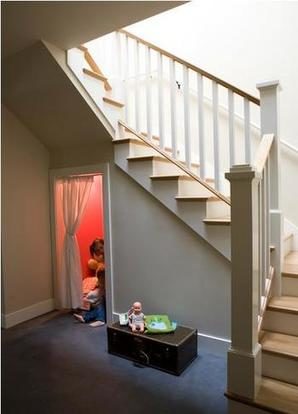 Speaking of kids, an under-the-stairs secret playroom is just the right size for kids.
Sources: Quora, Simple Home, Southern Living, Bob Vila, Kreativitas, One Kind Design, Stairstorageco.net, Boor Bridges Architecture
strong>Double dishwashers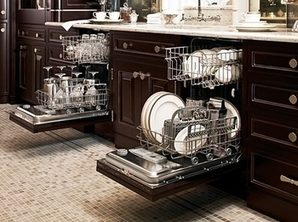 Why do dishes always seem to pile up in the sink? Often, the dishwasher is full, running or yet-to-be emptied. One solution: double dishwashers.
Sources: KitchenAid, General Electric
Sheds for everything BUT lawnmowers
Homeowners are doing amazing things with sheds and outbuildings, creating private getaways, meditation havens, offices, studios and hobby rooms.
For the homeowner who doesn't want to do it all, builders are responding by specializing in custom-styled outbuildings.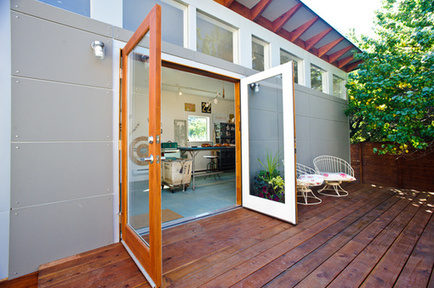 This artist's studio was configured by the homeowner from an online design template and constructed from a prefab building.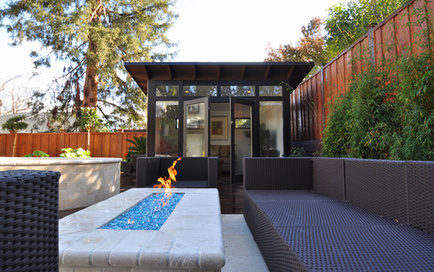 This Palo Alto outdoor living/entertainment room was custom-built from recycled materials, right down to the used denim insulation.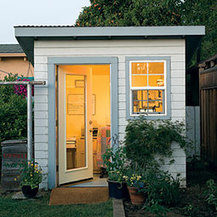 This tiny writing office was created by a local carpenter for Pulitzer Prize-winning author Martha Mendoza, who considered it a "vast improvement over writing in the laundry room!"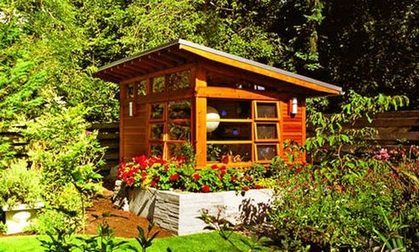 This meditation retreat and quiet healing room is a converted lawn shed created to support a Seattle homeowner and recovering breast cancer survivor.
Sources: StudioShed, The Shed Builder, Summerwood
Built-in pest control
We don't like to think about it, but we know they're there – bugs in our walls, floors and ceilings. But why spray where people eat, sleep and play if we can zap the bugs where they live? That's the idea of an in-wall pest control system.
The system uses small-gauge polyethylene tubing installed within walls to distribute pesticide throughout the home without spraying in the living areas, where it can affect humans and animals. Think more effective on pests, safer for us. The exterminator only has to inject the pesticide into one end of the in-wall system to keep insects and rodents away.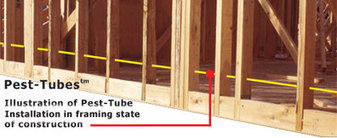 Sources: Taexx, Centex
Shh, it's a secret (room)
There is a small but expanding industry in secret rooms. Secret rooms aren't just for spooky stories and serial killers. There are companies dedicated to designing secret doors, rooms and passages in high-end suburban houses.
Seventy percent of secret doors and rooms are for security purposes, built as a panic room or for safeguarding valuables. But many are just for fun.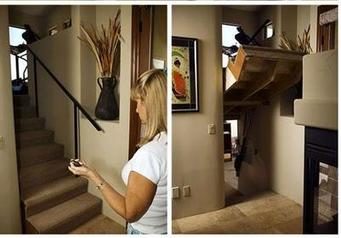 One couple created this hidden room for their teenaged daughter to use as a combined play and study space.
Other requests include hidden wine cellars and game rooms. The company Cardok even creates hidden garages using hydraulic lifts, allowing owners to tuck their cars neatly out of sight when they aren't in use. "It saves space, and it's a very discrete design," says Cardok's Izabela Waligora. "It doesn't spoil your entrance or your garden."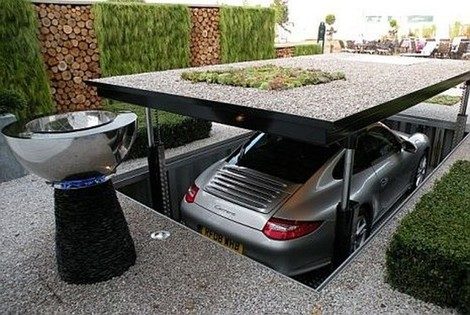 Among the most prolific secret-room companies is Creative Home, which according to founder Steve Humble has sold about 500 secret rooms. Sales have increased in each of the past three years, with 2014 on pace to be its best year.
If you've always wanted a secret room, brace yourself for the price tag. A standard rotating bookcase will run you about $10,000, but a hidden garage will cost $50,000, and a large, complete built-in panic room or wine cellar will cost upwards of $100,000.
Sources: Wall Street Journal, Houzz, Spiral Cellars, Cardok, Creative Home Engineering
Do any of these ideas appeal to you? If you're in the home industry, have you seen an increased desire for any of these features among your clients? How can these products be marketed and sold? Let us know in the comments.