Agency News, Inspiration
Since opening our doors more than 30 years ago, Wray Ward has built a reputation for delivering great work.
As a young art director, I had the opportunity to work for and learn from two amazing, inspirational and award-winning creative directors. I was then given the opportunity to lead the creative group and recruit and hire new talent that could elevate our work to the next level.
Through the years, we have been very fortunate (and at times humbled) to be recognized by our industry and peers for our outstanding creative work on a local, regional and national level. But awards (as nice and pretty and confirming as they are) aren't the sole measure of great work.
Results are indeed the ultimate measure. Yet with feedback, analysis and every kind of metric imaginable at our fingertips – how does our agency in today's fast-paced and ever-evolving world define great work? And, how do we account for the intangibles?
Our management team discussed and debated the topic. The conclusion? Work can't be great if it doesn't perform.
Now, instead of striving to do just great work, each day we work as a team to deliver Better Performing Work. Here's how we define it.
Better Performing Work is: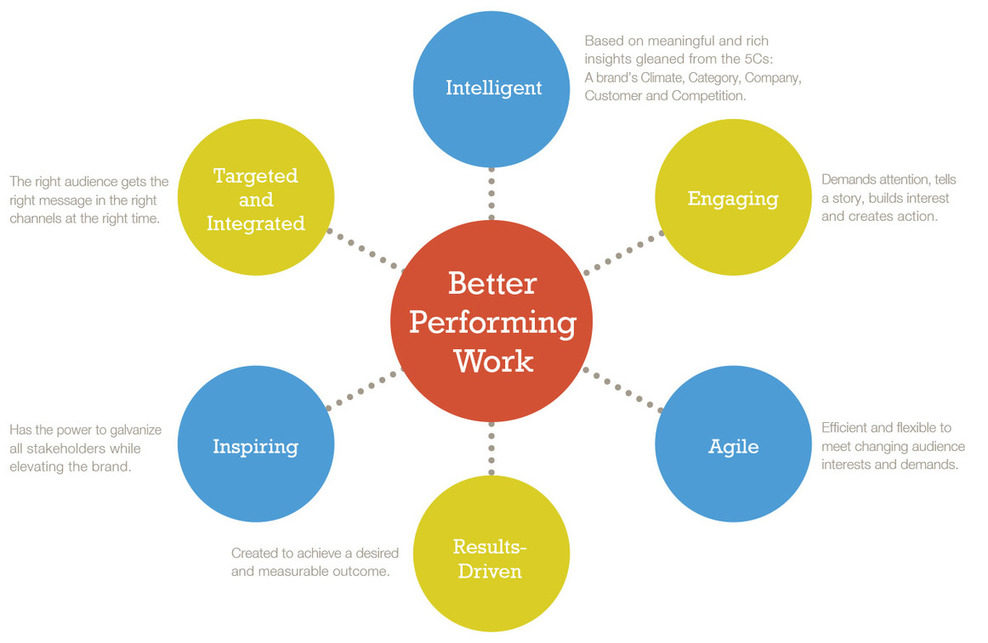 Intelligent – Based on meaningful and rich insights gleaned from the 5Cs: A brand's climate, category, company, customer and competition
Targeted and integrated – The right audience gets the right message in the right channels at the right time.
Engaging – Demands attention, tells a story, builds interest and creates action.
Agile – Efficient and flexible to meet changing audience interests and demands.
Results-Driven – Created to achieve a desired and measureable outcome.
Inspiring – Has the power to galvanize an organization while elevating the brand.
What do you think? Your feedback would be... Great.