Client News
Eaton's lighting division delivers a range of innovative and reliable indoor and outdoor lighting solutions, as well as controls products specifically designed to maximize performance, energy efficiency and cost savings. The company serves customers in the commercial, industrial, retail, institutional, residential, utility and other markets.
We worked with Eaton to develop The Lighting reSOURCE, a website that provides innovative and inspirational content. Our goal was to equip professionals with the tools and training needed to shape the future of lighting while positioning Eaton as the ultimate resource in the lighting industry.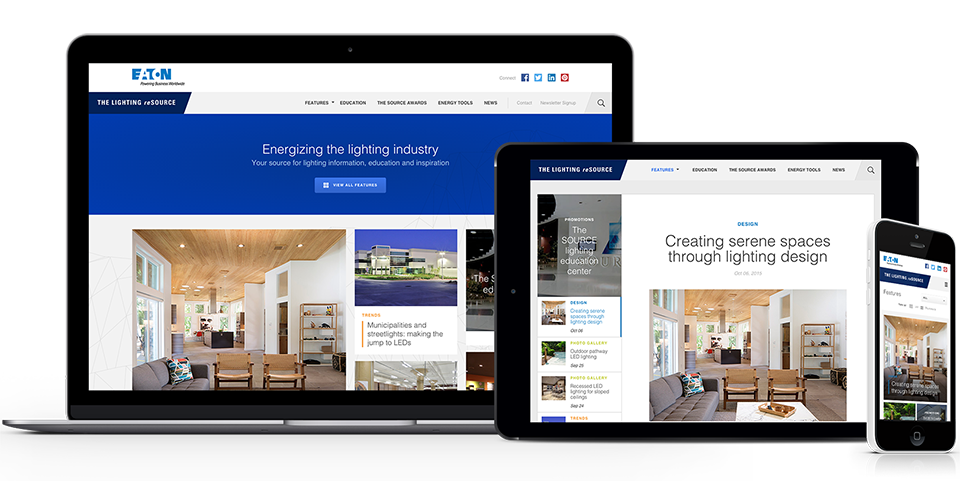 Launched in October 2015, TheLightingreSOURCE.eaton.com appeals to a community of architects, builders, designers, engineers and specifiers. While it is not an Eaton products site, The Lighting reSOURCE features Eaton lighting division experts and positions the company as an industry thought leader. Content is available online 24/7 and is optimized for search. Elements include:
Original feature content on emerging lighting trends
Photo galleries
LED toolkits
Lighting industry news
Educational opportunities
The launch of The Lighting reSOURCE also marks the first time that industry professionals and lighting students can enter projects into the prestigious SOURCE Awards competition, now in its 39th year, via an online submission process.
The website's robust editorial platform allows our original content to shine and also lets users easily find industry tools and resources. An extremely flexible site, The Lighting reSOURCE is built to scale so that new content can continually be added. It is also completely responsive, ensuring that users have a seamless experience across all screen sizes.
Working with Eaton's lighting division, our team developed an integrated campaign to promote the new site. Elements include:
Print ads in major industry publications
Digital banner ads
Google display
Paid search
Monthly email newsletter
Newsletter to internal sales team
Eaton and Eaton lighting division websites
Media outreach
Influencer and blogger outreach
Social media including LinkedIn, Twitter, Facebook and Pinterest
We are measuring site engagement, content consumption and shares as well as Eaton's database growth and lead generation. Success is also measured by the quality and consistency of the content produced. Immediately following launch, The Lighting reSOURCE drew rave reviews from Eaton's lighting division staff and industry partners.
"A huge thank you to the entire Wray Ward team, who worked very diligently to conceptualize, plan, launch and promote TheLightingreSOURCE.eaton.com," said Kristie Anderson, director of marketing communications for Eaton's lighting division. "I truly believe this site will be a game changer for Eaton in the lighting space and thought leadership. Your efforts to get this launched at record pace are greatly appreciated."