Client News
The undisputed industry leader in emergency rescue products, Hurst Jaws of Life wanted to educate customers about its most recent innovation, StrongArm. StrongArm can cut, lift, spread and replace crowbars, wire cutters, axes and more – all in one powerful package. To successfully introduce this industry game-changer, Wray Ward developed an integrated campaign (print, digital and social) targeting fire chiefs, fire departments, police departments and SWAT teams.
In an emergency, every second counts. StrongArm is a competitively priced combination tool that eliminates the need for many tools such as crow bars, pliers and wire cutters. With StrongArm, tactical rescue, rapid intervention and law enforcement teams can access portable hydraulic power, break down doors with ease and cut through rebar and security bars in a snap. StrongArm gives everyday heroes bigger, badder tools to do their jobs.
It makes heroes super.
Guided by this concept, our team created print ads starring firemen and police officers. But rather than use real people, we photographed an action figure in firemen's and police officers' clothing and gave it a larger-than-life, powerful arm modeled after the StrongArm tool. Shot entirely by our team on a set we built in our office, the ads feature props like Legos, crayons, toy cars, leaves and rocks. This gives the ads an authentic feel and makes it immediately clear that the subjects are dolls. The creative visuals and short, compelling copy instantly bring the benefits of StrongArm to life on the page.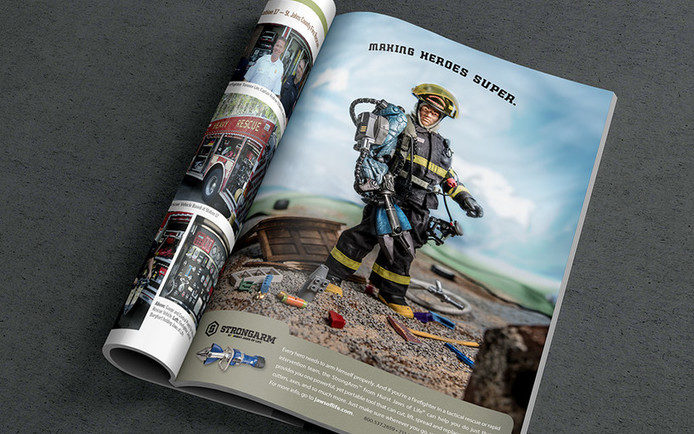 The StrongArm ads are strikingly different from their competition in trade magazines where advertising generally features fire trucks and similar photography. The use of action figures inspires fire chiefs and others to stop and take a closer look, and the copy demonstrates the brand's position as a global leader and innovator in emergency rescue products. Distinct digital and social elements complement this messaging. By concisely communicating the benefits of StrongArm in an unexpected way, the integrated campaign has resulted in impressive initial product sales and new leads.
"The StrongArm campaign is a prime example of why Hurst Jaws of Life selected Wray Ward to provide us with marketing communication strategies and execution," said Bruce R. Johnston, director of marketing and product management for Hurst Jaws of Life, Inc. "Wray Ward's creativity and execution are second to none, and we were more than happy to capitalize on their expertise with our StrongArm brand and product introduction. The StrongArm campaign far exceeded our expectations and provided Hurst with clear and compelling positioning in the market."