Industry Trends
Marketing Insights
Consumers want convenience. They want to shop for anything, anytime, anywhere. In a 2016 Kantar Retail study, around 46 percent named convenience as the number one driver behind their recent online purchases. But physical retailers are still important. In fact, nearly two-thirds of consumers who purchase products online like to visit a store before or after the online purchase.
The role of digital in home improvement shopping continues to grow. Prior to a trip to the store, many home improvement customers want to research merchandise online, read product reviews, search for coupons, shop for products and more. The number of people who research merchandise and check in-store availability online made the most significant gains.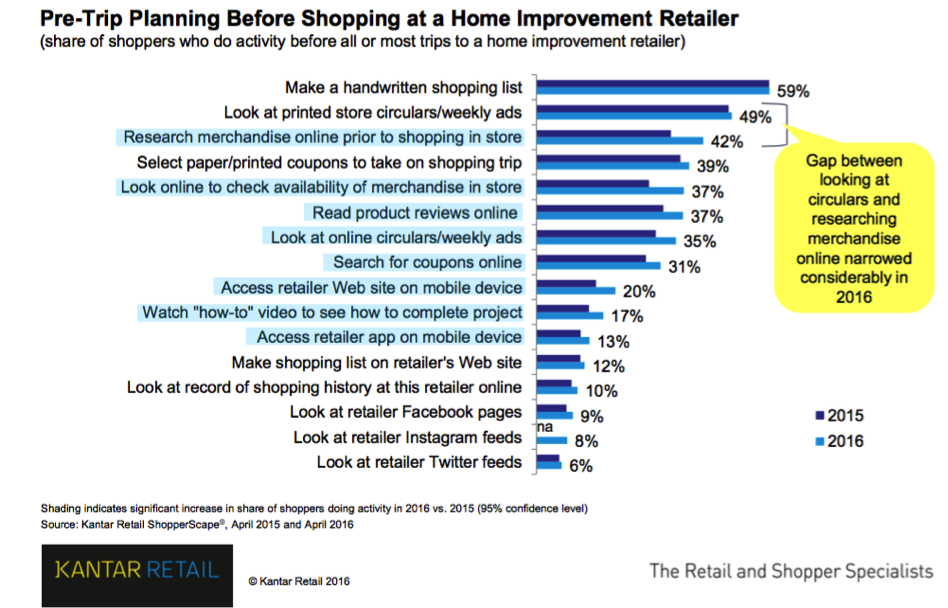 How omni-channel marketing addresses common pain points
The home improvement industry is helping lead the way in omni-channel marketing growth.
Omni-channel marketing is all about informing customers, providing service and creating convenience. If you're building experiences across numerous channels to support other efforts, make sure you identify the customer needs you are trying to address. What are their pain points? Is your solution viable? How will your solution make your customers' experiences, purchase decisions and actual purchases as seamless as possible?
Digital marketing has a huge role in pre-planning. But when the process isn't seamless, customers can experience pain points such as:
Locating products in-store after finding them online
Comparing online merchandise size with actual in-store dimensions
Syncing online inventory availability and pricing with in-store information
Eric Hanson, director of digital experience, product management and omni-channel integration at Lowe's Home Improvement, wanted to remedy these pain points. So, when Lowe's considered its recent site redesign for Lowes.com, it focused heavily on supporting consumers, even when they weren't physically in-store.
The team devised several solutions:
Added store and product aisle locations on product pages
Enlarged product imagery and displays with dimension descriptions
Improved inventory availabilty and pricing information
Mobile point-of-sale tool
For Lowe's, the spring season represents another pain point. It's the home improvement retailer's busiest time of the year, especially in the lawn and garden section. That's why Lowe's rolled out a mobile point-of-sale device in 50 stores. The move allowed associates to help customers outside the store, scan their credit card and print or email a receipt. This tool not only solved associates' need to better help customers, but also customers' need for a quicker and easier experience.
MyLowe's receipt tracking program
Lowe's also created the MyLowe's program to help customers keep track of receipts. Instead of having a junk drawer full of receipts, customers can scan a key fob or phone number and digitally log all purchases made.
"If you have something like a washing machine or hot water heater that has a multi-year warranty on it, you want to know when you bought it," Hanson said.
In-store apps for associates
In the last five years, Lowe's also established apps for iOS, Apple devices and Android devices, as well as wearable apps for iOS and Android, as their usage rose. To further improve the customer experience, Lowe's considered the store associate experience.
"We empower our store associates to help customers in-aisle by using digital technology," Hanson said.
Lowe's now has 62,000 iOS devices in the hands of its store employees, who use associate-specific apps to help customers and make their own jobs easier.
Additional omni-channel strategies for the future
True value lies in the continued advancement of omni-channel efforts to provide customers with valuable information that's also specific to them, their purchases and their purchases' life cycle. For example, Hanson would like to see Lowe's alert customers five months before they need to buy a new refrigerator filter, which should help them avoid scrambling at the last minute.
"Right now, we're reacting to market forces, but I want to be proactive and provide solutions before customers know they need them," Hanson said.
Hanson hopes to find a way to predict home improvement projects and recommend purchases as a way to help prevent customers from leaving the store only to realize they forgot to buy one or two things they need.
The push to personalize and define the user experience is the driving force behind omni-channel retail growth. In today's digitally targeted world, consumers are beginning to expect and anticipate personalized communications online and in-store. Merging the gap between targeted digital strategies and in-store experiences will be key to establishing a refined omni-channel marketing plan for future retailers.
You might also be interested in:
3 Things to Know About the Residential Remodeling Market