Marketing Insights
This post is the fourth in a series about my experience building a house – from how we picked our lot to what it's like watching your dream home transform from a drawing into a real thing with shingles, windows and doors.
Homebuilding is a personal experience, and all the stories shared in this series are real. But as a marketer focused on the home industry, I also jumped at the chance to play secret shopper, market researcher, experience analyst, and judge and jury on which communication, marketing and sales tactics work well – and those that need a complete overhaul.
I didn't have a lot of patience as a kid. I'm a lot better as an adult, but my homebuilding experience has given me a remedial crash course in the virtue of patience. I'll be the first to admit that when my husband and I signed on the dotted line in late March, I half-hoped to see our new house start taking shape weeks later.
What was I thinking?
We had our preconstruction meeting in mid-June but hit several construction start roadblocks, giving us almost 10 weeks to think about the biggest purchase of our lives. When the crews and heavy equipment finally appeared on our corner lot in the dog days of a South Carolina summer, I almost couldn't believe my eyes.
I'll be honest: deep down, I always knew that delays are a fact of life in new home construction (or any kind of construction, for that matter). Labor shortages and spring rains and permitting issues aren't the "acts of God" included in the contract we signed, but the fact is that delays can and will happen in construction, whether or not the builder is solid.
Here are five things builders should keep in mind between the pre-construction meeting and construction start to keep their buyers at ease and turn them into vocal advocates:
Be aware of potential pain points for your buyers at this stage of the homebuilding journey and have strategies to address them. These potential pain points include changes that occur after the contract is signed (if applicable) and long periods with no activity, which can be exacerbated if the builder does not provide updates that show the issues are being addressed. Even if you don't have a definite timetable or major update, regular communication shows the buyer that you are engaged and their home is important to you.
Communication, communication, communication. On some level, all builders just want to focus on the job at hand – building their customer's new home. But while communication adds an item to your already-long punch list, making your buyers partners in the process is critical. In fact, it can save time by reducing the number of concerned buyer questions you have to address. One hour of planned work, such as weekly or biweekly planned check-ins to provide updates on progress and milestones, is better than 10 hours of unplanned work to fix problems or appease anxious customers. Open communication also positively affects your buyer's impression of the work quality and, more importantly, creates an environment of trust.
The homebuilding industry is a customer service industry, and you will grow your business by keeping your buyers happy during and after the sale. If you're a volume builder, you can't possibly provide the same level of personal attention as a custom builder, but it's still important to address each buyer as if they're your only client. Nobody wants to hear that they're a second or third priority, especially if they're making the biggest purchase of their life. And if issues arise, be careful not to blame the buyer, even if they're wrong.
Homebuyers have a strong emotional attachment to bricks and mortar. Blueprints, elevations, paint chips and countertop samples help buyers visualize their future home, but they don't provide the same rush as a concrete slab or joists, studs and rafters. Don't forget, the product you sell is more than just a house – it's a home – and for a homebuyer, framing is exciting because, for the first time, they can see their dream coming together. The start of construction also gives customers a sense of relief and adds assurance that they made the right decision. Celebrate this milestone with your clients, even if the celebration is a quick call, text or email message to share the good news.
Play past the final whistle. There's nothing wrong with spiking the football when you get to this stage, especially if you celebrate successes together. But chances are, your buyers already have their eye on a future milestone – whether that's the pre-drywall meeting or the day they get to move into their new home. Focus on speed, but not at the expense of quality. Keep up the good work that got you here, and maintain the culture of open, honest communication you've established. Do all these things, and you'll be more likely to have happy customers who recommend you to others.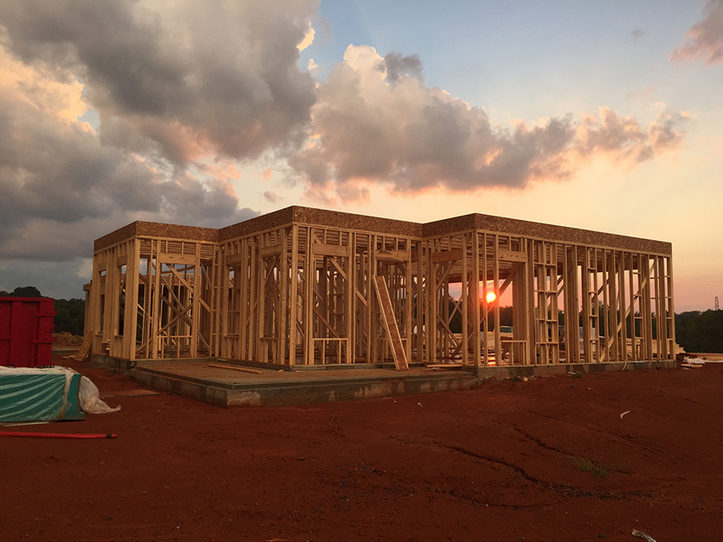 We've hit our fair share of bumps in the road to new homeownership, and I know now that we'll be closing a few months later than originally planned. But we have a solid construction manager who believes in open communication and a quality product as much as we do. The delays resulted in many weeknight trips to the development, creating an unexpected opportunity to meet all of our great future neighbors. I've almost learned my way around my new town. Watching the house come together, I'm still just as excited as that March day when I stood on a vacant lot and knew I wanted to call it home.
And if all else fails, I'll remember what my parents always told me: sometimes, the best things in life really are worth waiting for.
Next, I'll report on our pre-drywall walkthrough and share photos showing construction progress. Thanks for joining me on my homebuilding journey!
You might also like:
Homebuilding Insights: Preconstruction
Homebuilding Insights: Design Center