Industry Trends
We recently shared insights about a new study from one of our research partners, The Farnsworth Group. The study, which examined online purchasing behaviors among more than 1,000 homeowners across a variety of categories, indicates that more than 70 percent of homeowners are purchasing home improvement products online.
This week, we're highlighting results for the fashion plumbing category, which includes bath fixtures such as faucets, toilets, tubs, showers and vanities/tops.
While less than 20 percent of homeowners in the study purchased fashion plumbing products in the past year, among those who did, 69 percent made their purchases exclusively in-store. These homeowners indicated that the main reason for purchasing these products in-store was convenience.
Where do homeowners buy fashion plumbing products online?
Of the homeowners who purchased fashion plumbing products in the past year, almost one-third made a purchase online. When asked for more information, half said they purchased through a home improvement store website such as Home Depot or Lowe's. Of those homeowners who stated that they made a purchase through a manufacturer's website (38 percent), a majority said the manufacturer provided a link directing them to an online retailer selling their products. One in four said they received information on a local store carrying their product.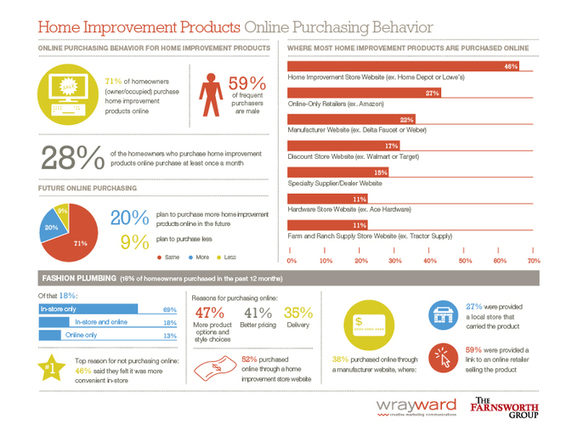 Here are the top three reasons why homeowners who purchased fashion plumbing products online chose to do so:
More product options and choices, including style and color
Better prices
Delivery to their front door
Using this and similar data from the study, companies and brands can gain invaluable insight into online home improvement product purchasing and the drivers that motivate homeowners so they can make more strategic and calculated marketing decisions.
Next week, we'll take an in-depth look at fashion lighting and ceiling fan fixtures. In the meantime, feel free to contact me at kpanther@wrayward.com for more information on any aspect of this study.