Agency Life
Inspiration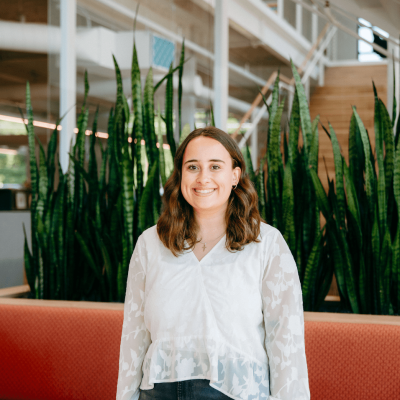 Written By
Julia Washington
PR/Content Coordinator
Two years ago in the fall of 2021, I marked Wray Ward's FORM internship application deadline on my calendar and geared up to take my shot at the opportunity of a lifetime. Back then, if you'd asked me if I thought I might land an interview, the imposter syndrome in me would've said, "Yeah, no."
What a difference two years can make.
In the last year alone, I graduated from Virginia Tech with a public relations degree, moved to a new state, got married and started my career as a PR/content coordinator at Wray Ward. Needless to say, it's been a busy season of life.
Today, as I approach my first anniversary as a full-time Wray Ward employee, I can't help but reflect on how much the agency's FORM internship had to do with helping me get here.
Taking the Leap
What drew me to Wray Ward's FORM internship in the first place?
When the time came for me to research internships during my junior year of college, I had my sights set on the Queen City. I also knew I wanted to experience working in an agency setting. With those two things guiding my search, I stumbled upon Wray Ward's FORM internship website.
I continued the hunt and made note of several other potential opportunities, but I kept coming back to the FORM internship. The prospect of working in a real-world agency on real client work appealed to me. But I also wanted to make connections, challenge myself and have fun — and Wray Ward checked all the boxes.
What was my first impression of the agency?
After interviewing and receiving the official congratulatory acceptance email, I was overwhelmed with excitement and nervousness. From the outside looking in, I had an idea of what Wray Ward was like, but I didn't know exactly what to expect as the internship start date drew near. Then, in May 2022, I made the drive from my hometown in Virginia to North Carolina and prepared for my long-awaited first day as a FORM intern.

When I arrived at 2317 Thrift Road, the inspiring office space blew me away. As soon as I walked through the doors, I took in Wray Ward's vibrant colors, adaptive workspaces and stunning view of the Charlotte skyline. With home-inspired elements and tons of natural light, it was a breath of fresh air.