Content Marketing, Strategy
Everyone loves content. We're searching, reading, watching and listening across multiple mediums 24/7—and these days, we're accessing information via two or three platforms simultaneously. In fact, one recent study found that 77 percent of the time when we're watching TV, we're using another device.* We've become a nation of media multi-taskers.
What does this mean for marketers?
In this digital age of short attention spans and device diversity, it's more important than ever that marketers:
• Understand the role each medium plays in the end user's path to purchase
• Maintain a focus on presenting the brand in a consistent manner
At a 4As conference this spring, our team heard from a panel of experts on video and content marketing.
These takeaways are particularly relevant to the multi-screen discussion:
• The smaller the screen, the more valuable the view. TV is one to many, tablet is one to few and phone is one to one.
• It's important to understand what happens between impression and conversion.
• The most effective messaging results when the right content is presented in the right context.
At Wray Ward, we believe any messaging we create for our clients should be compelling and flexible enough to resonate with their target audiences across all mediums. At the outset, we evaluate creative and content on how well it delivers against the creative brief. Once we're clear that we've delivered against the brief, we use our proprietary tool to apply a comprehensive set of criteria for better performing work: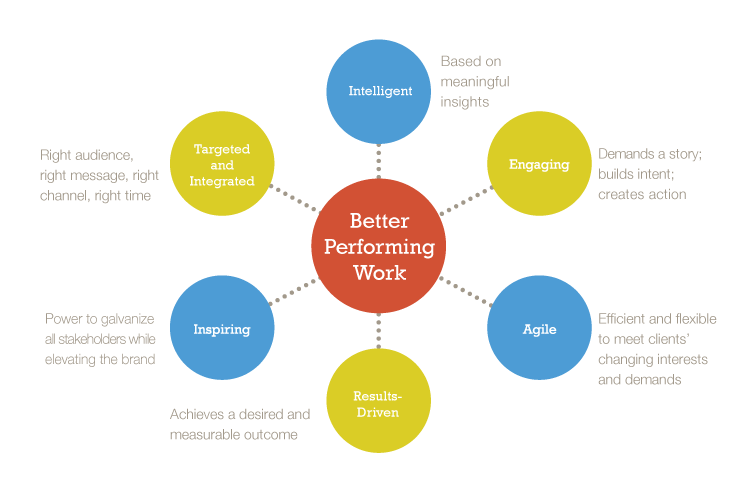 As marketers are challenged to deliver consistent messaging across the increasing number of mediums and continue to capture audiences despite rising competition for their attention, it will be important to:
• Maintain consistency
• Use specific criteria to evaluate the work
• Understand the role each medium can play in an end user's path to purchase
In applying these principles, you can help ensure that your brand message will be clear, effective and holistic, thus driving preference for your brand in the marketplace.
*Mediavision Digital Marketing Specialists, The Rise of the Multi-Screen Phenomenon: What Multitasking Means for Digital Marketers