Industry Trends, Marketing Insights
This infographic highlights current building and remodeling industry research, including 2015 projections for new builds and remodels, top home improvement project areas and a composition of today's home buyers. Click on the image for a larger version.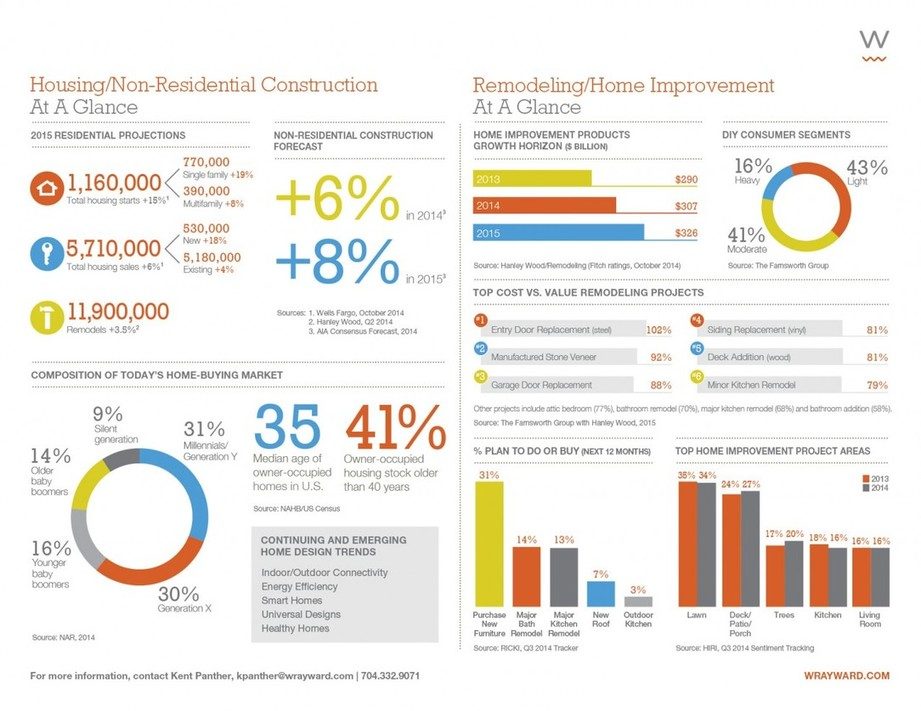 Here are some quick thoughts on the data and what it means for the building and remodeling industry:
The housing and commercial building industries are beginning to make a comeback.
Housing is making big gains in new home builds and remodeling; the latter kicked off the recent recovery and has driven it for a while.
Baby boomers are a major player in today's home-buying market, but most retirees aren't heading straight for the Florida sunshine. They're retiring in stages—and many are retiring in place. Home builders and remodelers must think creatively to reach this important market segment.
For all the myths about millennials (they don't buy homes, they like to move around, etc.), they're now leading the home-buying market.
Home design is an exciting space; top trends include indoor/outdoor connectivity, universal design, healthy homes, energy efficiency and smart homes.
All of this is great news for the building and remodeling industry. Growth is almost always a good thing, and audience shifts stimulate new ideas and novel strategies for marketers.
With that said, we're proceeding with cautious optimism. More growth is likely in store, but nobody's getting too bullish. We must account for normal market variations and lulls, and we still have a long way to go before we're back to pre-recession levels. However, lower interest rates, rising employment and increasing consumer confidence all point toward continued progress. The industry is well on its way!