Digital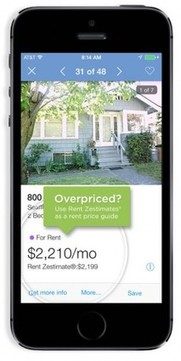 A recent article from the Wall Street Journal highlights a new trend in our super-connected world. Shopping for a home has gone mobile; more than half of all page views of listings across the nation are now accessed through a mobile device such as a smartphone or tablet.
The writer provides some good information, but the news doesn't surprise me. These days, almost everyone has a smartphone, putting the Internet at their fingertips. You can take a laptop with you, but it's not easy.
Your ultra-portable smartphone or tablet can be connected to the Internet at all times and comes with location-based technology. You can learn about a neighborhood with a simple swipe or touch of the screen. You can bookmark houses you like if you're not ready to make an offer at first sight. And in today's share-happy society, you can share the home of your dreams with your spouse, kids, roommate or several thousand of your closest friends.
Purchasing a home is a big deal, not to be taken lightly. Whether or not homebuyers are ready to talk to a realtor, there are plenty of apps out there to support a virtual house hunt. Here are some of my favorites available right now:
What are your favorite real estate apps? Let us know in the comments.