Paid Media, Search
With the advent of the Data Age, we're always on the lookout for inventive ways to transform overwhelming analytics into valuable insights. How can the humble, unappealing text ad provide a deeper understanding of our audience and help us learn how to better communicate with them?
The character limits alone can make writing text ads in Google AdWords a nuisance. When factoring in statistical significance, evaluating messaging performance at a high level can seem like a lost cause for which no one has time. These seven steps to writing more effective text ad copy can improve the performance of your AdWords campaigns as well as inform your overall creative and marketing strategies.
Writing Effective Ad Copy for Google AdWords
1. Structure your ad groups properly.
One of the overarching best practices in any AdWords campaign is to structure ad groups either as a SKAG (single keyword ad group) or as a group of key terms that are close variations of a root term. This creates the best opportunity to maximize the effectiveness of each ad group by writing highly relevant ad copy.
2. Consider what makes you special.
This is Marketing 101, we know, but we often see ads that provide little (if any) value to the user. Make a list of the benefits your product or service offers, especially anything that sets it apart from the competition. Any special offers, such as a free trial or money-back guarantee? Include those here as well.
3. Use that list to develop your basic messaging strategy.
Be sure to come up with a short, concise label for each messaging variation for easy reference (e.g., Installation or Eco-Friendly). Feel free to combine and test messaging variations with different offers as well — just be sure to account for any combos in later steps.
4. Create landing pages.
These pages should reinforce the messaging strategy and any offers you've outlined, providing more detail and information on the features and benefits of your product or service. They should also provide a clear conversion path for the user, offering simple, easy-to-understand next steps that encourage them to take the desired action — whether that be submitting their contact info for a free demo, finding a location nearby or purchasing online.
Unable to create unique landing pages? We often face the same roadblock. To tackle this issue, test site pages that best represent the components of your messaging strategy and present a clear conversion path.
5. Develop text ad copy for each messaging variation.
Communicate value. Be clear. Be concise. We prefer to create a unique headline and description for each messaging variation. This leaves room to tailor another headline to include your brand name as well as the unique key term grouping found within each ad group.
6. Distribute and label within AdWords.
This is the key that unlocks the data. Applying labels according to messaging and landing page allows you to easily view the performance of each tactic, whether from a 30,000-foot view at the campaign level or a more granular view at the ad group level.

Pro tips:

Make sure you select the "Rotate indefinitely" ad rotation (under the "Settings" tab). This will help ensure that your sample sizes for each messaging variation stay as even as possible during your primary testing period. Just be sure to update that setting once you feel you've collected enough data.
Use colors to differentiate between tactic types — for example, we might use lavender for messaging variations, navy for landing pages and gray for offers.
7. Analyze the results by sorting labels in the "Dimensions" tab.
This is where your up-front elbow grease finally pays off! From the "Dimensions" tab, you'll be able to easily decipher which messaging variations and landing pages are generating higher levels of engagement overall as well as which are falling short of expectations. Mileage may vary, of course, but we often make use of this PPC ad testing tool to help us determine statistical significance.
Evaluating Messaging and Offer Effectiveness
Click-through rate (CTR) is the primary metric we tend to use when evaluating general messaging and offer effectiveness. All other factors being equal within each ad group, CTR offers insight into which value propositions users find most compelling.

Evaluating Landing Page Effectiveness
Conversion rate is the metric we primarily use to gauge landing page effectiveness. Interestingly, in the example featured below, we discovered that users who land on the home page tend to convert at a higher rate overall than users directed toward any other page.

Here's how to access this data within each AdWords experience. (We're not quite ready to let go of the previous version, so we're still managing there day to day.)

Previous AdWords Experience
Within the campaign or ad group for which you'd like to view data, click on the "Dimensions" tab.
Click on the "View" drop-down menu in the top left.
Hover over "Labels," then click on "Labels — Ad."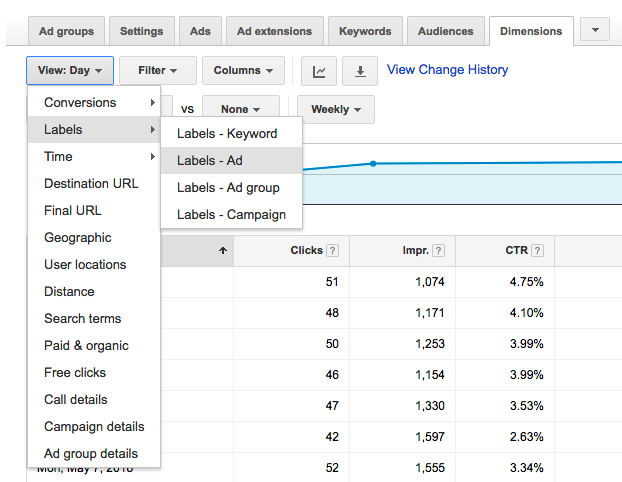 New AdWords Experience
Within the campaign or ad group for which you'd like to view data, click on the reporting icon in the upper right corner.
Hover over "Predefined reports" (formerly "Dimensions").
Hover over "Labels," then click on "Labels — Ad."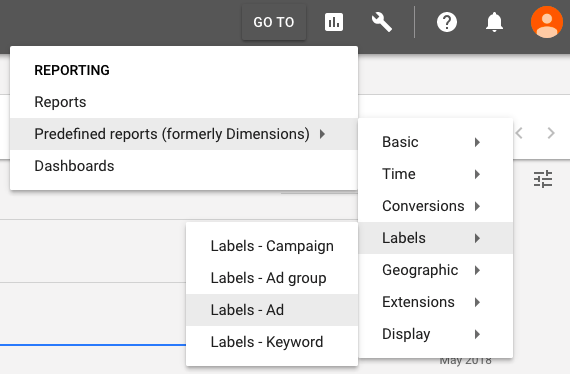 Testing messaging through stripped-down text ads is simple and can be turned around quickly. It may not be rocket science, but the insights revealed by this strategy can be shared across all departments to inform future creative and your marketing plan as a whole.