Video Production
At Wray Ward, we embrace a culture of giving back.
That's why our motion team spent part of a damp, chilly Saturday hosting a video production workshop with teens from Playing for Others, a Charlotte organization dedicated to personal development, service and the arts.
The small but mighty team at Playing for Others is hard at work cultivating the next generation of innovative leaders, philanthropists and compassionate human beings. And as part of this year's program, the teens are creating videos to support 12 deserving non-profit organizations in our community.
The catch is that while the teens participating have tons of creative talent, storytelling ability, dedication and drive, none of them have ever produced a video. So their fearless leader, Jen Band, asked our motion team if we would be willing to show them the ropes.
We came ready to share an introduction to video basics and then break into small workshops on things like:
Pre-production and editing
Camera operation
Lighting and audio
Animation
I was excited for the opportunity to teach teens about our industry and give them a glimpse of how they could express themselves through video production. I knew we'd be working with 15 teenagers. But I never imagined they'd all be young ladies.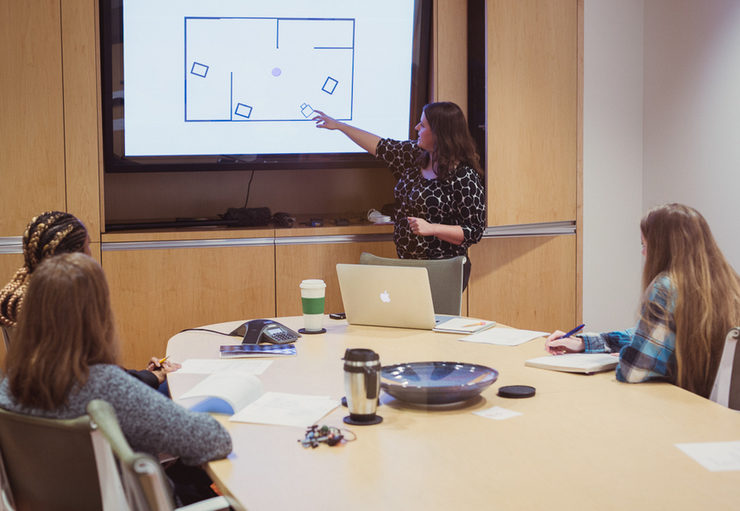 Even though I've watched the percentage of crewmembers who are women grow in the years since I got into the business, video is still a male-dominated field. So walking into a room full of young women eager to learn about what I do was a pleasant surprise, especially since my own love for video production started when I was about their age.
I can still remember my first day at a new middle school in Georgia. My family had just moved from New York that summer, and the transition hadn't been easy. I went on a tour of the building, which included a production room where students could learn about broadcasting and deliver the school announcements as a news broadcast.
I was immediately hooked. I mustered up the courage to get in front of the camera and read the news on the first day of school, even though I was the new kid. I went on to study video and film throughout middle and high school. And when I showed up at a university TV center as a college freshman looking for volunteer opportunities, I landed a job.
I never looked back.
Since I was 18 years old, I've lived and breathed video production. This field is a lot less glamorous than it might seem on the surface; I've been behind the camera for some incredible projects in amazing locations, but earlier in my career I also fetched coffee, carried heavy equipment and held cables as a runner. And I loved every second of it.
Here's my advice to young people: don't get discouraged. Never back down. Follow your dreams. Regardless of where you land or what you do for a living, sometimes your work won't be received well. But keep at it. You'll learn from your failures, large and small. You'll grow as a professional and an individual. You'll make beautiful things. You'll be inspired by the people you meet and the stories you tell.
By sharing the stories of 12 local non-profit organizations, teens with Playing for Others are affecting positive change in our community. Meanwhile, they're discovering themselves through the arts. And as part of Charlotte's creative community, I believe it's important for all of us at Wray Ward to give back by helping train and inspire the next generation.
I hope the 15 young ladies who attended our workshop enjoyed their time with us and even learned a thing or two. It was such an honor to briefly get to know these young people. In the process, they reminded me what it's like to be passionate and fearless. They showed me how art can be beautiful, but also how it can transform the world.
You might also be interested in:
FORMing My Career at Wray Ward